Christmas is Coming!
(posted 12/1/2012) - Everyone around our neighborhood is putting up Christmas decorations. The weather has been great for stringing lights and tinsel; many clear, cool days with variable sunshine.
Pat and I normally don't even think about trees, lights, and other miscellaneous decorations until after the 14th (my birthday). But over the last couple of years we've been moving our decorating activity forward a week or two. Expect a tree and tinsel at the Wallace's next weekend!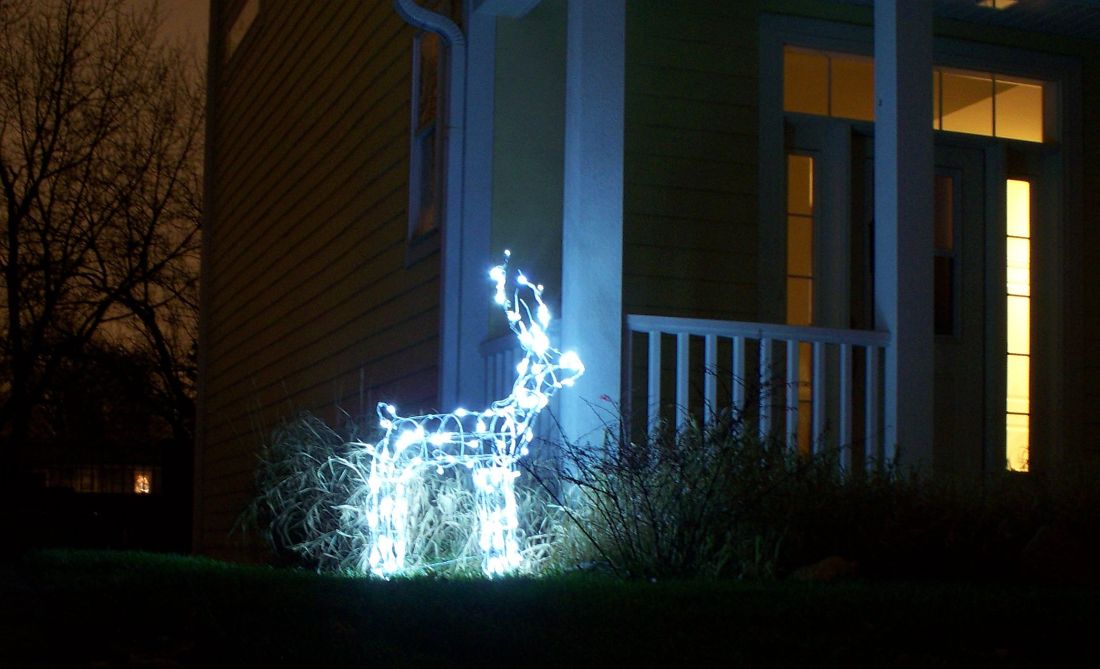 Our favorite reindeer went up outside yesterday, and we've strung lights in our Ficas trees (living room and family room). I guess that means we are officially in the Christmas Season. We've even ordered some Christmas gifts online! I attribute this early holiday activity to our advanced ages; we just can't put things off like we used to and still get everything done at the last minute.
I've included a picture of our little reindeer -- this year we plan to get him a mate for the other side of the porch. Click on the image to enlarge it to full size.

Post Script: Today, Dec 8th, we got our tree up and also got our outside lights done. Here's a picture of our front porch with a couple of trees, a couple of reindeer, and some Christmas lights strung -- that's it for this year!

PPS - OK, we finished decorating our tree on the 12th. We also put up some decorations on the mantle and on some of the window sills. We are now officially done with Holiday Decorations (until mid January when it comes down).
I snapped this pic yesterday afternoon.
<! dummy>
<! middle>